In today's tsubuyaki,
Natsuko sensei talks about her favorite things with easy Japanese.
Let's listen to the audio and practice your Japanese!
Today's Tsubuyaki Level
★☆☆☆☆☆
Beginner Level
Audio (Full ver.)↓↓
If you click the + button on the right side of Japanese sentence below,
short version of audios chunk by chunk,
scripts with Kanji and roman characters,
and translations will appear.
Hope this will help you improve your Japanese vocabulary!
---
私の好きな物は果物です。
Watashi no sukina mono wa kudamono desu.
My favorite thing is fruits.
すきなもの(Sukinamono):favorite things
くだもの(Kudamono):fruits
インドネシアにいた時、毎日いろんな果物を食べました。
Indonesia ni ita toki, mainichi ironna kudamono wo tabemashita.
When I was in Indonesia, I ate various kinds of fruits everyday.
〜にいたとき(〜ni itatoki):When I was at(in)〜
いろんな(ironna)+noun: various kinds of + noun
Mangoo ya suika ya painappuru ya doragonfuruutsu nado desu.
Like Mango, Watermelon, Pineapple, Dragon fruits and so on.
〜や〜や・・・などです。(〜ya〜ya…nado desu):Like〜, 〜, …, and so on.
*Used when listing more than three things.
マンゴー(mangoo):mango
すいか(suika):watermelon
パイナップル(painappuru):pineapple
ドラゴンフルーツ(doragonfuruutsu):Dragon Fruits
トロピカルフルーツが安くてとても美味しかったです。
Toropikaru furuutsu ga yasukute totemo oishikatta desu.
Tropical fruits was really cheap and delicious.
やすくておいしい(yasukute oishii):cheap and delicious
*When connecting two adjectives, て(te)is used in between the adjectives.
おいしかった(oishikatta):past tense of oishii(delicious)
日本の果物は美味しいですが高いです。
Nihon no kudamono wa oishii desu ga takai desu.
Japanese fruits are delicious, but expensive.
Adjective1ですが、Adjective2です:Adjective1 but Adjective2
*When two contradicting adjectives are used at the same time, you put が(ga)in between the adjectives.
でも、季節の果物を楽しむことができます。
Demo, kisetsu no kudamono wo tanoshimu koto ga dekimasu.
But I can enjoy the seasonal fruits.
きせつ(kisetsu):season
たのしむ(tanosimu):enjoy
〜ことができます(〜koto ga dekimasu):I can〜
春は苺やさくらんぼ。夏は西瓜。秋は柿や葡萄や梨。冬はみかんが美味しいです。
Haru wa ichigo ya sakuranbo. Natsu wa suika. Aki wa kaki ya budou ya nashi. Fuyu wa mikan ga oishii desu.
In spring, strawberry and cherry(are delicious). In Summer, watermelon. In autumn, persimmon, grape, and pear. In winter, mandarin orange is delicious.
はる(haru):spring
なつ(natsu):summer
あき(aki):autumn
ふゆ(fuyu):winter
私が好きなことはネットフリックスを見ることです。
Watashi ga sukina koto wa nettofurikkusu wo miru koto desu.
What I like to do is to watch Netflix.
すきなことは〜ことです。(Sukina koto wa〜koto desu.):What I like to do is to〜.
すきなこと(sukina koto):favorite things to do
最近、鬼滅の刃にハマっています。
Saikin kimetsu no yaiba ni hamatte imasu.
Recently I'm into Damon Slayer.
さいきん(saikin):recently
〜にハマっています(〜ni hamatte imasu):I am into〜
鬼滅の刃(kimetsu no yaiba):Damon Slayer*
*the name of anime

映画はまだ見ていません。
Eiga wa mada miteimasen.
I haven't watched the movie yet.
えいが(eiga):movie
まだ+verb(te form)+いません(mada+te form+imasen):I haven't + verb
まだみていません(mada mite imasen):I haven't watched yet.
アニメを全部見た後、映画を見に行こうと思います。
Anime wo zenbu mita ato, eiga wo mini ikou to omoimasu.
After watching all the anime, I'd like to go see the cinema.
ぜんぶ(zenbu):all
みにいく(miniiku):go watch
みにいこう(miniikou):I'll watch(will form of みにいく)
Verb(will form)+とおもいます(to omoimasu):I'd like to + Verb
それから、私はヨガをすることも好きです。
Sorekara, watashi wa yoga wo suru koto mo suki desu.
One more thing, I also like to practice yoga.
それから(sorekara):then, one more thing
〜こともすき(〜koto mo suki):I also like to do〜
天気がいい日には海岸でヨガをします。
Tenki ga ii hi niwa, kaigan de yoga wo shimasu.
When the weather is good, I do yoga on the beach.
てんき(Tenki):weather
てんきがいい(tenki ga ii):good weather
かいがん(kaigan):beach
波の音を聞きながらヨガをすると気持ちがいいです。
Nami no oto wo kikinagara yoga wo suru to kimochiga ii desu.
If you practice yoga while listening to the sound of waves, it feels good.
なみのおと(nami no oto):sound of waves
〜を ききながら(〜wo kikinagara):while listening to〜
きもちがいい(kimochi ga ii):feels good

皆さんの好きなことは何ですか?コメントに書いてくださいね。
Minasan no suki na koto wa nandesuka? komento ni kaite kudasaine.
What's your favorite things? Please leave your comment!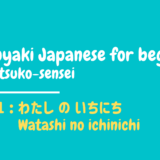 Tsubuyaki Japanese for beginners Vol.1 – Watashi no ichinichi-