In today's tsubuyaki, Natsuko sensei talks about her everyday life with easy Japanese.
Let's listen to the audio and practice your Japanese!
Today's Tsubuyaki Level
★☆☆☆☆☆
Beginner level
↓Audio (Full ver.)↓
If you click the + button on the right side of Japanese sentence below,
short version of audios chunk by chunk, scripts with Kanji and roman characters, and translations will appear.
Hope this will help you improve your Japanese vocabulary!
---
私は朝たいてい6時に起きます。
Watashi wa asa taitei roku-ji ni okimasu.
I usually wake up at 6 in the morning.
あさ(asa):morning
たいてい(taitei):usually / most of the time
おきます(okimasu):wake up
スポーツウェアを着て、30分ぐらい運動します。
Supo-tsu wear wo kite, sanjuppun gurai undou shimasu.
I wear sportswear and exercise for about 30 minutes.
〜をきて(〜wo kite):I wear〜 on, and…
ぐらい(gurai):about / around
うんどうします(undou shimasu):do exercise
うちの近くを歩きます。
Uchi no chikaku wo arukimasu.
I walk nearby my house.
うち(uchi):home / house
〜のちかく(〜no chikaku):nearby〜
あるきます(Arukimasu):walk
それから家に帰って、20分ぐらいヨガをします。
Sorekara ie ni kaette, nijuppun gurai yoga wo shimasu.
Then I go home, and I practice yoga for about 20mins.
いえにかえって(ie ni kaette):go home (and…)
ヨガをします(yoga wo shimasu):practice yoga

その後シャワーをして、朝ごはんを食べます。
Sono ato shawaa wo shite, asagohan wo tabemasu.
Then I take a shower and eat breakfast.
シャワーをして(Shawaa wo shite):take a shower (and…)
あさごはん(asagohan):breakfast
8時半から5時まで仕事をします。
Hachi ji han kara go ji made shigoto wo shimasu.
I work from 8:30 to 5:00.
はちじはん(hachi ji han):half past eight
〜から…まで(〜kara…made):From〜until…
しごとをします(shigoto wo shimasu):work
仕事をする時よくコーヒーを飲みます。
Shigoto wo suru toki yoku koohii wo nomimasu.
When I work, I often drink coffee.
〜とき(〜toki):when〜
よく(yoku):often
〜をのみます(~ wo nomimasu):I drink〜
ランチはよく外で食べます。
Ranchi wa yoku soto de tabemasu.
I often have lunch outside.
ランチ(ranchi):lunch
そと(soto):outside
たまに残業します。
tama ni zangyou shimasu.
I sometimes work overtime.
たまに(tamani):sometimes
ざんぎょうします(zangyou shimasu):work overtime
仕事の後はまたヨガをします。
Shigoto no ato wa mata yoga wo shimasu.
After work, I practice yoga again.
〜のあと(〜no ato):After〜
また(mata):again
それから晩ご飯を作ります。
Sorekara bangohan wo tsukurimasu.
Then I cook dinner.
ばんごはん(bangohan):dinner
〜をつくります(〜wo tsukurimasu):cook〜/make〜
テレビを見ながらご飯を食べます。
Terebi wo minagara gohan wo tabemasu.
While I watch TV, I eat dinner.
〜をみながら(〜wo minagara):while I watch〜
お酒も飲みます。私はビールとワインが好きです。
Osake mo nomimasu. Watashi wa biiru to wain ga sukidesu.
I also drink alcohol. I like beer and wine.
おさけ(osake):alcohol / sake
〜がすきです(〜ga sukidesu):I like〜
ご飯の後はお風呂に入ります。
Gohan no ato wa ofuro ni hairimasu.
After dinner I take a bath.
おふろにはいります(ofuro ni hairimasu):take a bath
寝る前にネットフリックスを見ます。
Neru mae ni nettofurikkusu wo mimasu.
Before going to bed, I watch Netflix.
〜まえに(〜maeni):before〜
ネットフリックス(nettofurikkusu):Netflix*
*some people also call Netflix as "ネトフリ(netofuri)"
here you can see how Japanese people put vowel sounds for every consonant that appears!
大体10時半ぐらいに寝ます。
Daitai juuji-han gurai ni nemasu.
I normally go to bed at around 10:30.
だいたい(daitai):normally
ねます(nemasu):sleep, go to bed
皆さんの1日はどうですか?ぜひコメントに書いてくださいね。ではまた!
Minasan no ichinichi wa doudesuka? zehi komento ni kaite kudasai ne. dewa mata!
How about your everyday life? Please do write comments. See you again!
みなさん(minasan):everybody
ぜひ〜てください(zehi〜tekudasai):please do〜!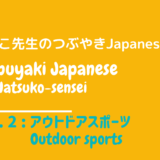 なつこ先生のつぶやきJapanese Vol.2 -アウトドアスポーツ-