Today's tsubuyaki by Natsuko sensei is about outdoor sports.
She talks about her new hobby, Stand up paddles.
Today's Tsubuyaki Level
★★☆☆☆☆
Basic Level
Please enjoy listening to her story
while improving your Japanese vocabulary!
Audio (Full ver.)↓↓↓
First let's listen to the monologue without looking at the script
and check how much you can understand what Natsuko sensei is talking about!
---
Minasan, autodoa supo-tsu, sukidesuka?
Hi everyone, do you like outdoor sports?
〜すきですか(Sukidesuka)?:Do you like〜?
Watashi wa kotoshi no natsu, SUP ni hamatte mashita.
I got into SUP this summer.
〜にハマっている(ni hamatteiru):I'm into〜
SUP toiu nowa umi ya mizuumi de suru supo-tsu desu.
Stand-up Paddle no ryaku desu.
SUP is a sport enjoyed on the ocean or lakes.
It's the abbreviation of Stand-up Paddle.
〜のりゃく(no ryaku):abbreviation of 〜
SUP wa sa-fin yorimo sukoshi ookii bo-do wo tsukaimasu.
For SUP, we use a board a little bit bigger than surf board.
〜よりも(yorimo)+adjective:more + adjective + than〜
すこし(sukoshi):a bit
Sa-fin wa padoru ga arimasen ga, SUP ha mizu no ue wo padoru de koide susumimasu.
You don't use a paddle for surfing, but when you do SUP, you paddle a board on the water to move.
こぐ(kogu):row / paddle (verb)
Kanuu wa suwatte kogimasu ga, SUP wa tatte kogimasu.
You paddle canoe in a sitting position, but you paddle SUP in a standing position.
すわって+ Verb:Verb + in a sitting position
たって+ Verb :Verb + in a standing position
Nihon de wa sa-fin ya kanuu wo suru hito wa mukashi kara ookatta ndesuga, SUP wo suru hito wa sukunakatta desu.
In Japan, there have been many people surfing and canoeing for a long time, but few people do SUP.
むかしから(Mukashi kara):from a long ago
Demo, saikin nihon demo SUP wo suru hito ga fuete kimashita.
However, recently the number of people who enjoy SUP has increased in Japan as well.
〜がふえてきた(ga fuete kita):the number of 〜 has increased
Kankou-chi demo SUP taiken ga dekiru basho ga takusan arimasu.
There are many places where you can experience SUP even in tourist spots.
かんこうち(Kankouchi):tourist spots
〜たいけん(taiken):experience〜
SUP re-su ya SUP yoga nanka mo arimasu.
Watashi wa yoga mo daisuki nanode, SUP yoga ga tottemo tanoshii desu.
There are also SUP races and SUP yoga. I love yoga also, so SUP yoga is a lot of fun.
Futsuu no yoga yorimo baransu wo toru noga muzukashikute, taikan ga kitaeraremasu.
It's more difficult to stay in balance than regular yoga, so it's a good core exercise.
バランスをとる(baransu wo toru):stay in balance
Minasan wa donna autodoa supo-tsu wo shimasuka?
Zehi nihongo de komento wo kaite kudasaine. Dewa mata!
What kind of outdoor sports do you enjoy?
Please do write a comment in Japanese! See you soon!
ぜひ〜てください(zehi〜tekudasai):Please do〜!
If you enjoy this Tsubuyaki series,
please have a look at other posts as well!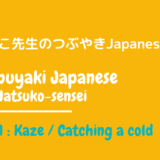 なつこ先生のつぶやきJapanese!Vol.1 -風邪-