Today's tsubuyaki by Natsuko sensei is about moving to the rural area.
She recently moved to Awaji Island from Osaka.
Because of COVID-19, a lot of yonger generations have decided to move to the rural areas like Natsuko sensei. Let's figure out why by listening to Natsuko sensei's monologue, or her tsubuyaki!
Today's Tsubuyaki Level
★★★★★☆
Advanced Level
Please enjoy listening to her story
while improving your Japanese vocabulary!
First let's listen to the monologue without looking at the script
and check how much you can understand what Natsuko sensei is talking about!
Audio (Full ver.)↓↓↓
私が淡路島に引っ越した理由
私は今、日本の淡路島という島に住んでいます。
今日は私が淡路島に引っ越した理由について話したいと思います。
Watashi wa ima, Nihon no Awajishima toiu shima ni sundeimasu.
Kyou wa watashi ga Awajishima ni hikkoshita riyuu nitsuite hanashitai to omoimasu.
I'm currently living on an island called Awajishima.
Today I'd like to talk about the reason why I decided to move to Awajishima.
〜という+Noun(~ toiu + N): N which is called "〜"
〜に引っ越す(〜ni hikkosu):Move to〜
理由(Riyuu):reason
コロナの影響で、テレワークになったという人、多いんじゃないですか?
私もその一人です。
これまではインドネシアで仕事をしていたんですが、コロナでロックダウンするかもしれないという3月になって、急遽日本に帰りました。
で、日本から遠隔で仕事をしなければいけなくなって、最初は実家の大阪で仕事をしていたんです。
Korona no eikyou de, tere-waaku ni natta toiu hito, ooinja-naidesuka?
Watashi mo sono hitori desu.
Koremade wa Indonesia de shigoto wo shiteitandesuga, korona de rokkudaun suru kamosirenai toiu san-gatsu ni natte, kyuukyo nihon ni kaerimashita.
De, Nihon kara enkaku de shigoto wo shinakereba ikenakunatte, saisho wa jikka no Osaka de shigoto wo shiteitandesu.
Because of COVID-19, a lot of people have started working online, right?
I am also one of them.
I used to work in Indonesia before, but because of COVID-19, they said they might lockdown the country in March, I hurried to go back to Japan.
Then I have to work remotely from Japan, and at first I was working in Osaka, where my parents' home is located.
私の実家は父が小さい会社をもっていて、家族はうちから歩いて10分ぐらいの会社で働いています。
一方、私はテレワークなのでずっと家にいるわけですね。
するとやっぱり、家にいる人が家のことをするのが当たり前みたいな感じになっちゃって。
Watashi no jikka wa chichi ga chiisai kaisha wo motteite, kazoku wa uchi kara aruite ju-ppun gurai no kaisha de hataraite imasu.
Ippou, watashi wa terewaaku nanode zutto ie ni iru wakedesune.
Suruto yappari, ie ni iru hito ga ie no koto wo suru noga atarimae mitaina kanji ni nacchatte.
As for my family, my dad owns a small company, so my family works at that company which is around 10 min's walk from home. On the other hand, because I work online, I stay home all the time. Then what happens is that they start to think that those who stay home will do house work.
一方(で)(ippou (de)):On the other hand
テレワーク :tele-work, work online, work remotely
家のことをする(ie no koto wo suru):Do things around the house, house work
朝4人分の洗濯をして、食器を洗って、掃除とかして、それから働いて、休憩時間にランチに行くついでに晩御飯の食材をスーパーで買って、みんなが帰ってくる前に料理をして…ってやっていたんですよ。
もうこれダブルワークですよね。何かおかしい!
Asa yo-nin bun no sentaku wo shite, shokki wo aratte, souji toka shite, sorekara hataraite, kyuukei jikan ni ranchi ni iku tsuideni bangohan no shokuzai wo suupaa de katte, minna ga kaettekuru maeni ryouri wo shite…tte yatteita ndesu yo.
Mou kore daburu waaku desuyone. Nanika okashii!
In the morning I did the laundry for 4 persons, washed dishes, cleaned the rooms, and then worked. While I'm out for lunch break, I went to the grocery store to get food for dinner, and I cooked before everybody comes back home…I was doing like that.
This is actually a double-work! Something is wrong!
〜ついでに(tsuide ni )+ V:while I〜, I + Verb
何か(が)おかしい(nanika (ga) okashii):something is wrong
でも、IT関係に詳しくないうちの家族は、家にいてもちゃんと仕事をしてるんだというのをなかなか理解してくれませんでした。
そしてコロナも長引いていてインドネシアにいつ戻れるか分からない、
ってなった時に、「よし、もう引っ越してしまおう」と決意しました。
Demo, IT kankei ni kuwashikunai uchi no kazoku wa, ie ni itemo chanto shigoto wo shiterunda toiuno wo nakanaka rikai shite kuremasendeshita.
Soshite korona mo nagabiite, Indonesia ni itsu modoreruka wakaranai,
ttenatta toki ni "Yoshi, mou hikkoshite shimaou" to ketsui shimasita.
However, my family who's not familiar with IT related topics, they could hardly understand that although I'm at home I am working properly(full-time).
So when I thought that COVID-19 would last longer, and I was not sure when I could come back to Indonesia, I made up my mind, "I'm going to move!".
〜に詳しくない(~ni kuwashiku nai):not familiar with〜
ちゃんと〜する(chanto V suru):properly + do〜(verb)
なかなか+ negative form:hardly + do(verb)
長引く(nagabiku): takes longer time, prolonged
決意する(ketsui suru):make up my mind

私は自然が大好きなので、せっかく引っ越すなら
都会じゃなくて田舎でのんびりしたいなあと思っていたんですね。
それで、最初はね、沖縄に行こうと思ったんです
でも友達に相談したら、
「夏子の実家大阪だし沖縄より淡路島がいいんじゃない?」
と勧めてくれました。
Watashi wa shizen ga daisuki nanode, sekkaku shikkosu nara tokai janakute inaka de nonbiri shitainaa to omottanndesune.
Sorede saisho wa ne, Okinawa ni ikou to omottan desu.
Demo, tomodachi ni soudan shitara,
"Natsuko no jikka Osaka dashi, Okinawa yori Awajishima ga iin janai?"
to susumete kuremashita.
Since I like nature, I thought I should definitely move to the rural area rather than big cities.
Then at first, I was thinking of moving to Okinawa.
But when I asked my friend for her advice,
I was recommended by her,
"Since your parent's home is in Osaka, isn't Awajishima better than Okinawa?"
最初は(saisho wa):at first
相談する(soudan suru):ask for an advice, consult
勧める(susumeru):recommend
確かに沖縄って、飛行機を使わないと行くことができないんですよね。
だから何かあったときにすぐに大阪に戻って来られない。
でも淡路島だったら大阪から車で1時間半とか2時間で行けちゃう上に、
島だから海もあって山もあって自然が豊かなところなんです。
Tashikani Okinawa tte, hikouki wo tsukawanaito ikukotoga dekinai ndesuyone.
Dakara nanika atta toki ni suguni Osaka ni modotte korarenai.
Demo, Awajishima dattara Osaka kara kuruma de ichi-jikan-han toka ni-jikan de ikechau ueni, shima dakara umi mo atte, yamamo atte, shizenga yutaka na tokoro nandesu.
Indeed Okinawa is the place where you cannot go without taking flights.
So when something happens, I cannot quickly come back to Osaka.
But if it's Awajishima, it's only 1.5 or 2 hours drive from Osaka,
and moreover, it's full of nature like beaches and mountains because it is an island.
〜ないと(naito)….ことができない(kotogadekinai):cannot…without〜
〜上に(ueni)…:〜, moreover, …
そこで早速淡路島の賃貸を探して、そしてもう次の週には、なんと淡路島に移住をしていました。
コロナの影響で日本では私みたいに、地方移住をする人が増えているそうです。
自然の豊かなところでのんびりテレワークしながら暮らすと言う選択をしている人が、結構たくさんいて、そういう人が移住するためのサービスも充実してきています。
Sokode sassoku Awajishima no chintai wo sagashite, soshite mou tsugi no shuu niwa, nanto Awajishima ni ijuu wo shiteimashita.
Kotona no eikyou de nihon dewa watashi mitaini, chihouijuu wo suru hito ga fueteiru soudesu.
Shizen no yutakana tokoro de nonbiri terewaaku shinagara kurasu toiu sentaku wo shiteiru hitoga kekkou takusan ite, souiu hito ga ijuu suru tameno saabisu mo juujitsu shitekite imasu.
So I immediately searched for the rent, and by the next week, I had already moved to Awaji.
Because of COVID-19, more and more Japanese people like me have decided to move to the rural areas.
Many people have chosen to live a slow life while work online at a place full of nature, and now there are also many services to help such people to move.
早速(sassoku)〜する:immediately 〜(verb)
賃貸(chintai):rent
地方移住する(chihou ijuu suru):move to the rural area
のんびり〜する(nonbiri〜suru):slowly do〜
もちろん、田舎暮らしなので不便なこともあります。
車なしでは生活できないし。
でも、仕事でちょっと疲れたなーと思った時に海まで散歩に行ったり、週末は自然の中でリラックスして過ごせるので、
「こういう暮らし、すごくいいな、私には向いているな」っていう風に思います。
Mochiron, inaka gurashi nanode fuben na koto mo arimasu.
Kuruma nashi dewa seikatsu dekinai shi.
Demo, shigoto de chotto tsukaretanaa to omotta toki ni umi made sanpo ni ittari, shuumatsu wa shizen no naka de rirakkusu shite sugoseru node, "kouiu kurashi, sugoku iina, watashi niwa muiteiruna" tteiu fuu ni omoimasu.
Of course living in the countryside is not alway convenient.
For example, I cannot live without a car…
But when you are tired of working, you can just walk along the beach,
and on weekends you can relax surrounded by the great nature,
so I feel that this kind of life style is very good and it suits me.
田舎暮らし(inaka gurashi):living in the countryside
〜に向いている(ni muiteiru):It suits〜(person)
これまでは、働く場所を中心に住む場所を決めるという人が多かったと思いますが、コロナの影響でテレワークになって、みんな、実はオフィスに行かなくてもいいんじゃないかって気づき始めているんですよね。
インターネットさえあればどこでも働ける。
じゃあみんなどこに住みたいかとなった時に、
やっぱり都会に住みたい人と田舎に住みたい人って分かれますよね。
Koremade wa, hataraku basho wo chuushin ni sumu basho wo kimeru toiu hito ga ookatta to omoimasuga, Korona no eikyou de terewaaku ni natte, minnna jitsuwa ofisu ni ikanakutemo iinjanaika tte kizuki hajimeteiru ndesuyone.
Internet sae areba dokodemo hatarakeru.
Jaa minnna dokoni sumitaika to natta tokini,
Yappari tokai ni sumitai hito to inaka ni sumitaihito tte wakaremasu yone.
Until recently, I think many people have decided where they live based on where they work. But because of COVID-19, a lot of people have started to realize that they don't necessarily have to go to their offices for work.
As long as there's the Internet, you can work anywhere.
Then when asked where you want to live,
actually there are people who want to live in the city, and those who want to live in the rural area.
〜を中心に(wo chuushin ni):based on〜
〜さえあれば(sae areba):As long as you have〜
私の場合は、大阪生まれで都会の便利な生活も経験してきて、でも、自然が好きだし、海外生活も長かったので、のんびり過ごしたいなっていうのがすごくあります。
だから、淡路島位の、都会に近い田舎の暮らしが今はすごく気にいっています。
Watashi no baai wa, Osaka umare de tokai no benri na seikatsu mo keiken shitekite, demo, shizenga suki dashi, kaigaiseikatsu mo nagakatta node, nonbiri sugoshitaina tteiunoga sugoku arimasu.
Dakara, Awajishima kurai no, tokai ni chikai inaka no kurashi ga ima wa sugoku kiniitteimasu.
In my case, I was born in Osaka and have experienced convenient life there, but I like nature and also because I have lived abroad for a long time, I feel like I want to live a slow life. So I really like the life in a countryside of Awaji, which is close to the big city.
私の場合(は)(Watashi no baai (wa)):in my case
気に入っている(kini itteiru):I like it
結構ね、外国人の方は淡路島聞いたことがない方が多いと思います。
兵庫県の明石から四国に行く途中にある島で、「明石海峡大橋」という大きい橋があるので、大阪とか神戸から車で1・2時間で来られます。
皆さん、もし日本に来るチャンスがあったらぜひ淡路島にも来て、美しい自然を堪能してみてください。
はいと言うわけで今日は私が淡路島に移住した理由 について話しました。
ではまた〜!
Kekkou ne, gaikokujin no kata wa Awajishima kiitakotoganai kata ga ooi to omoimasu.
Hyougo ken no Akashi kara Shikoku ni iku tochuu ni aru shima de, "Akashi-kaikyo-oohashi" toiu ookii hashi ga arunode, Osaka toka Kobe kara kuruma de ichi-ni jikan de koraremasu.
Minasan moshi nihon ni kuru chansu ga attara zehi Awajishima nimo kite, utsukushii shizen wo tannou shite mitekudasai.
Hai, toiuwakede, kyou wa watashi ga Awajishima ni ijuu shita riyuu ni tsuite hanashimashita. Dewa mata〜!
I guess many foreigners have never heard of Awajishima. It's an island on the way from Akashi in Hyogo prefecture to Shikoku, and because it's connected by the big bridge called "Akashi Kaikyou Oohashi", it is only 1 or 2 hours drive from Kobe or Osaka.
If anybody have a chance to come to Japan, please do come visit Awajishima and enjoy the beautiful nature here.
Alright, so today I talked about the reason why I moved to Awajishima.
See you soon!
〜に行く途中(ni iku tochuu):on the way to〜
チャンスがあったらぜひ〜てください:Please do〜 if you have a chance.
If you enjoy this Tsubuyaki series,
please have a look at other posts as well!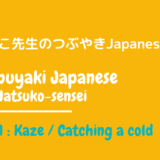 なつこ先生のつぶやきJapanese!Vol.1 -風邪-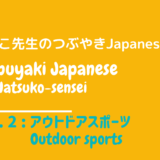 なつこ先生のつぶやきJapanese Vol.2 -アウトドアスポーツ-